ARMODD Squarz 11 Pro Black
Product detailed description
The finest display in its class
The ARMODD Squarz 11 Pro smart watch display sets a whole new standard. Incredibly fine 420 x 485 pixel resolution and frameless design along with a rotary wheel on the side of the aluminium case, you'll have the most comfortable operation of all functions yet.
Choose from a gallery of over 500 watch faces including the animated ones and you can easily create your own original watch face in the app. The smart watch also displays the time even after the main watch face is turned off.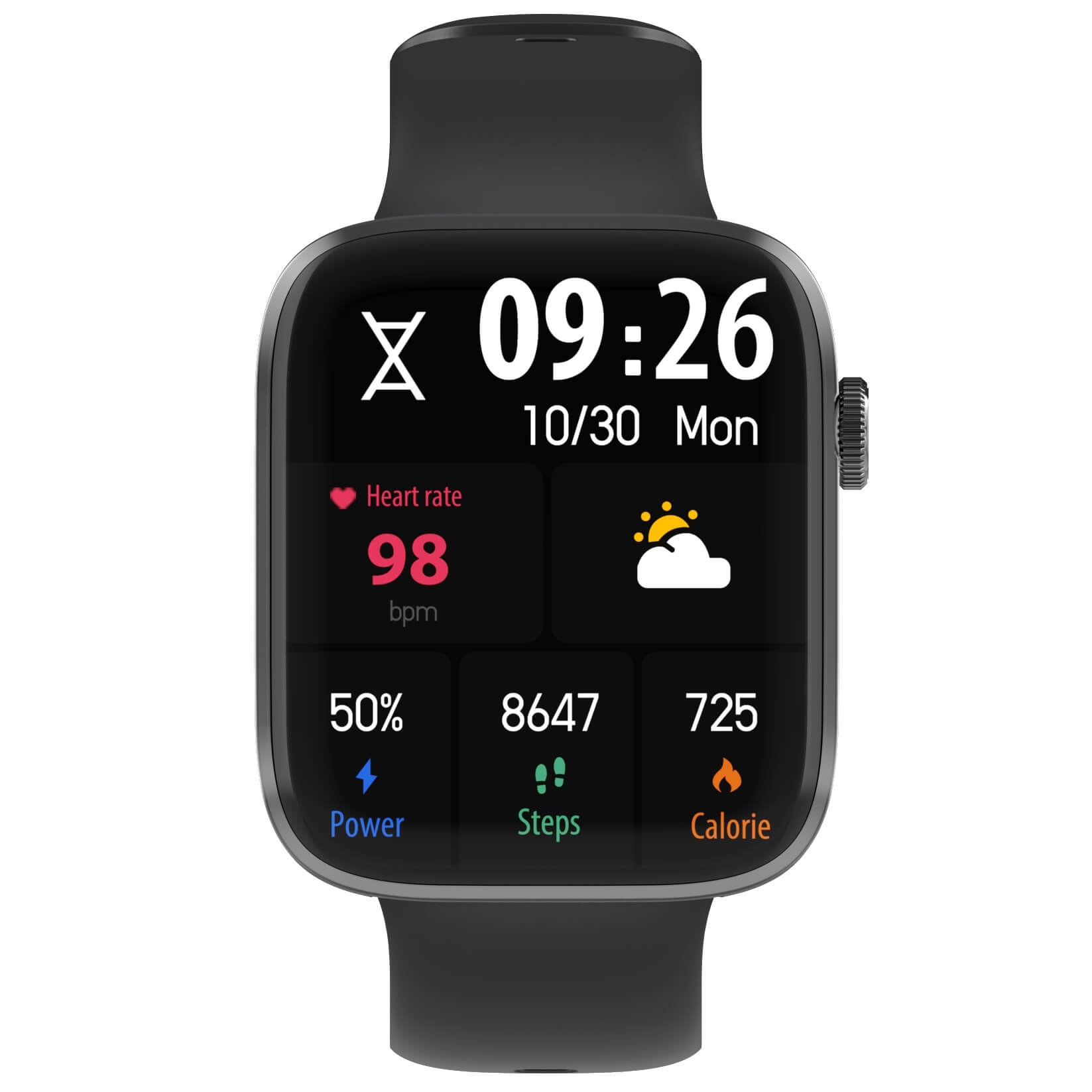 10 key features of ARMODD Squarz 11 Pro
Frameless touch display with fine resolution and excellent readability even in direct sunlight
Precision-crafted metal body and comfortable interchangeable strap
Calls directly from the smart watch via Bluetooth and remote music control when paired with your phone
Notifies you of incoming calls, SMS, e-mails and messages from apps
Advanced sensor for measuring heart rate in real time and at regular intervals, sleep, blood pressure, ECG and blood oxygen saturation measurement
Daily tracking of stepswalked, distance and calories burnt with recording to the mobile app
A choice of over 500 watch faces and the option to create a watch face from your own photo
11 sports modes: running, cycling, yoga...
Time display even after the main watch face is turned off
Wireless charging and battery life up to 20 days
Calling and reminding you of the most important things
Call directly from smart watch when connected to your phone. You can simply switch the function off/on as required. The smart watch also displays SMS, e-mails and messages from appsthat you can conveniently read, so you can let your phone rest right where it is.
You can also use the voice assistant, which is connected to your mobile phone. The remote musiccontrol, the Find Phone function and the weatherforecast display all come at your convenience.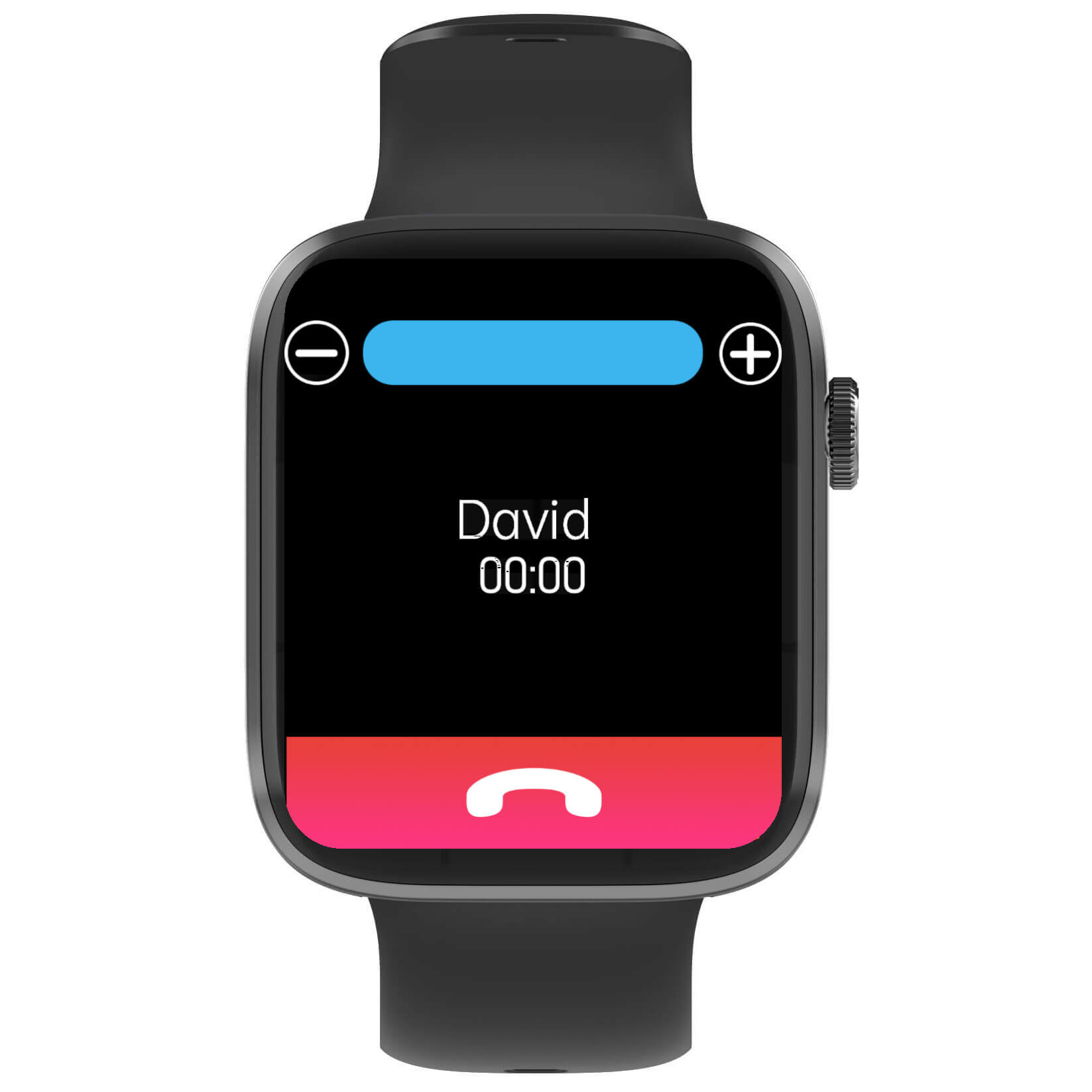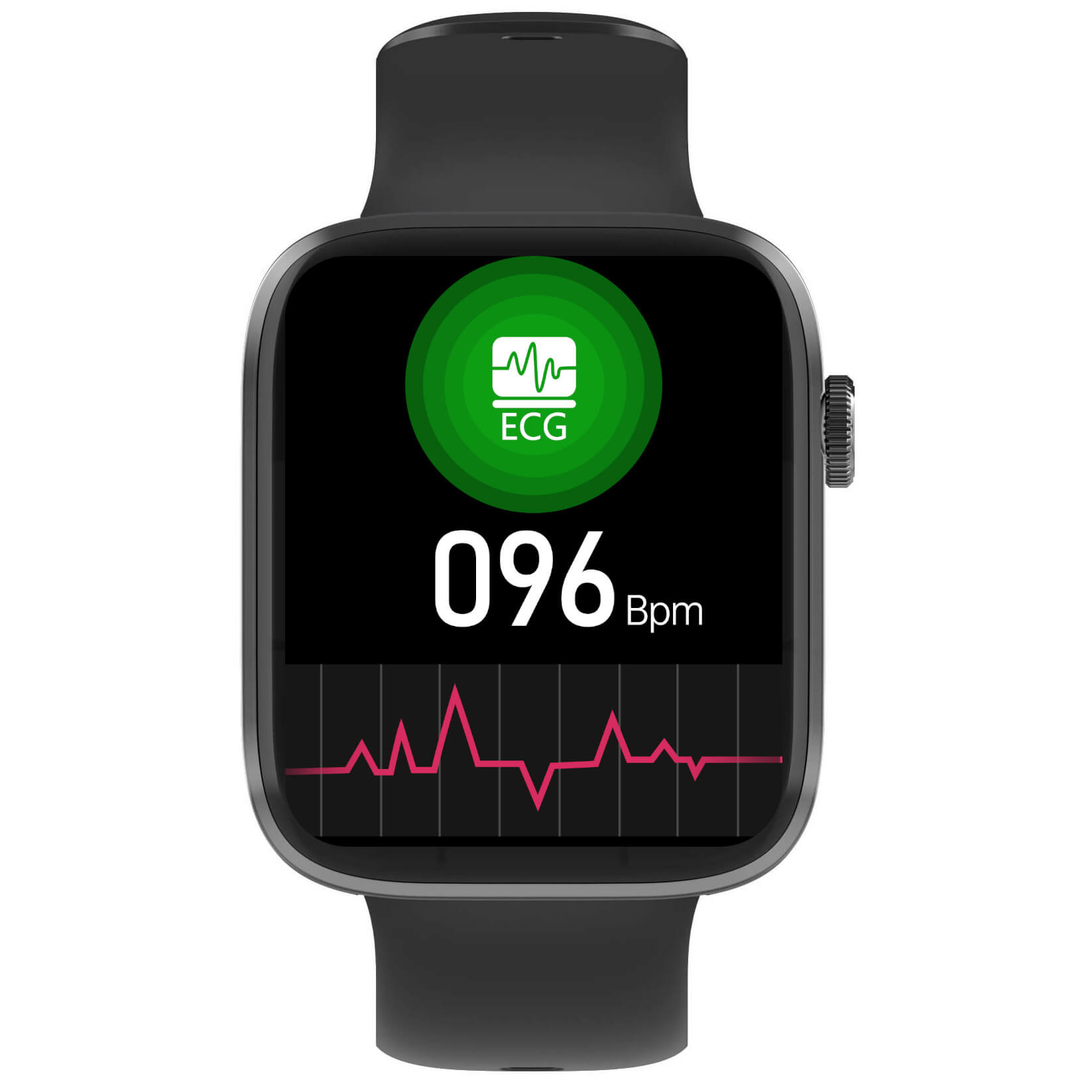 Keep your health under control
How much you walk and burn each day, your heart rate, blood pressure, oxygen saturation and ECG – you'll have a perfect overview of everything. Health is wealth, and your smart watch will help you to monitor the most important issues.
Thanks to the advanced sensor , you can measure your heart rate in real time and at regular intervals with a recording in the mobile app. The smart watch will also discreetly display the status of your menstrual cycle and much more.
Watch faces: Animated and custom ones and over 500 to choose from
Create your own original watch facethat no one else in the world will have. Custom photo is a refined way to personalise your watch to your image to the fullest.
You can also choose from more than already pre-loaded 500 watch faces in the mobile app. The option of animated dials is also a pleasure. You can have a brand new watch every day thanks to the interchangeable strap.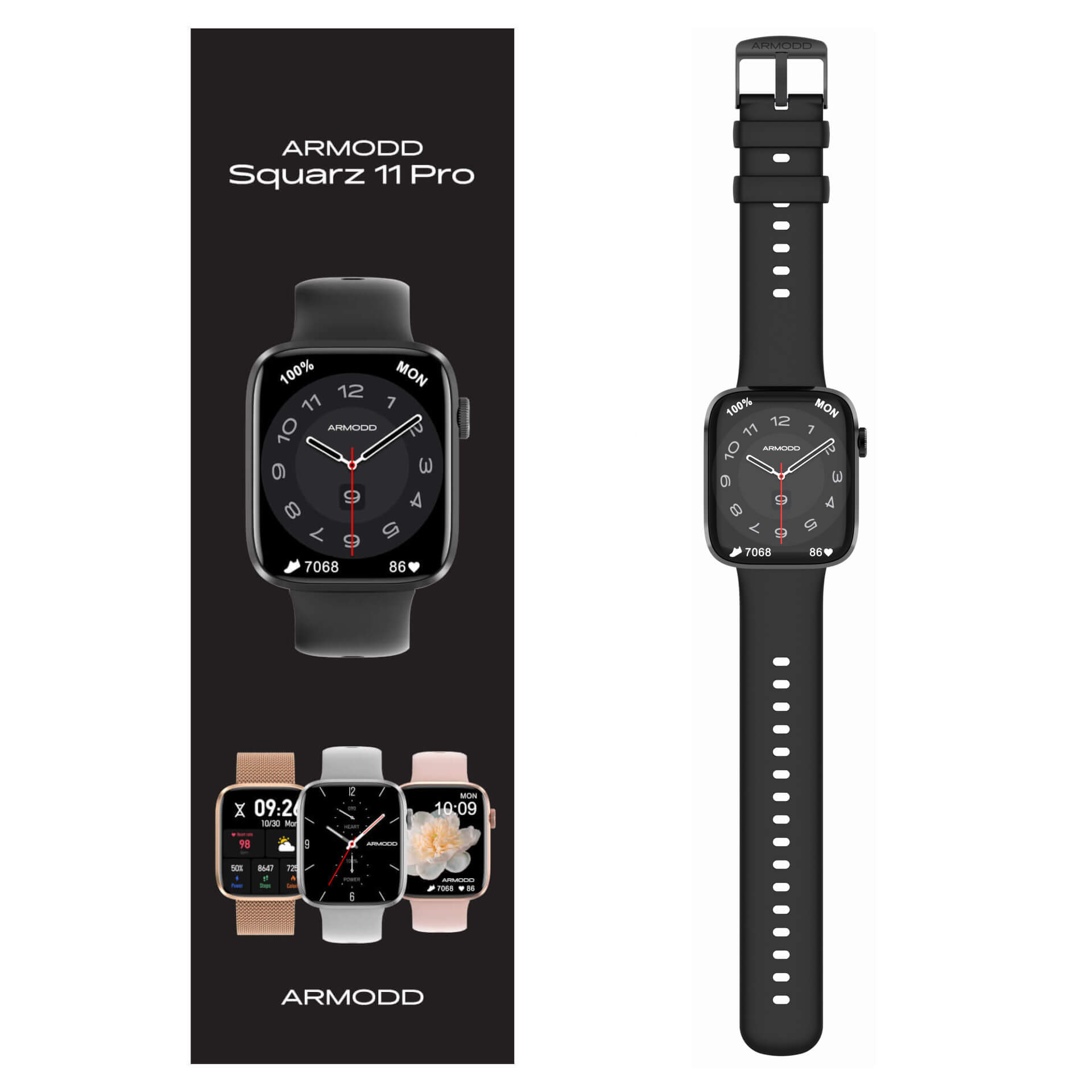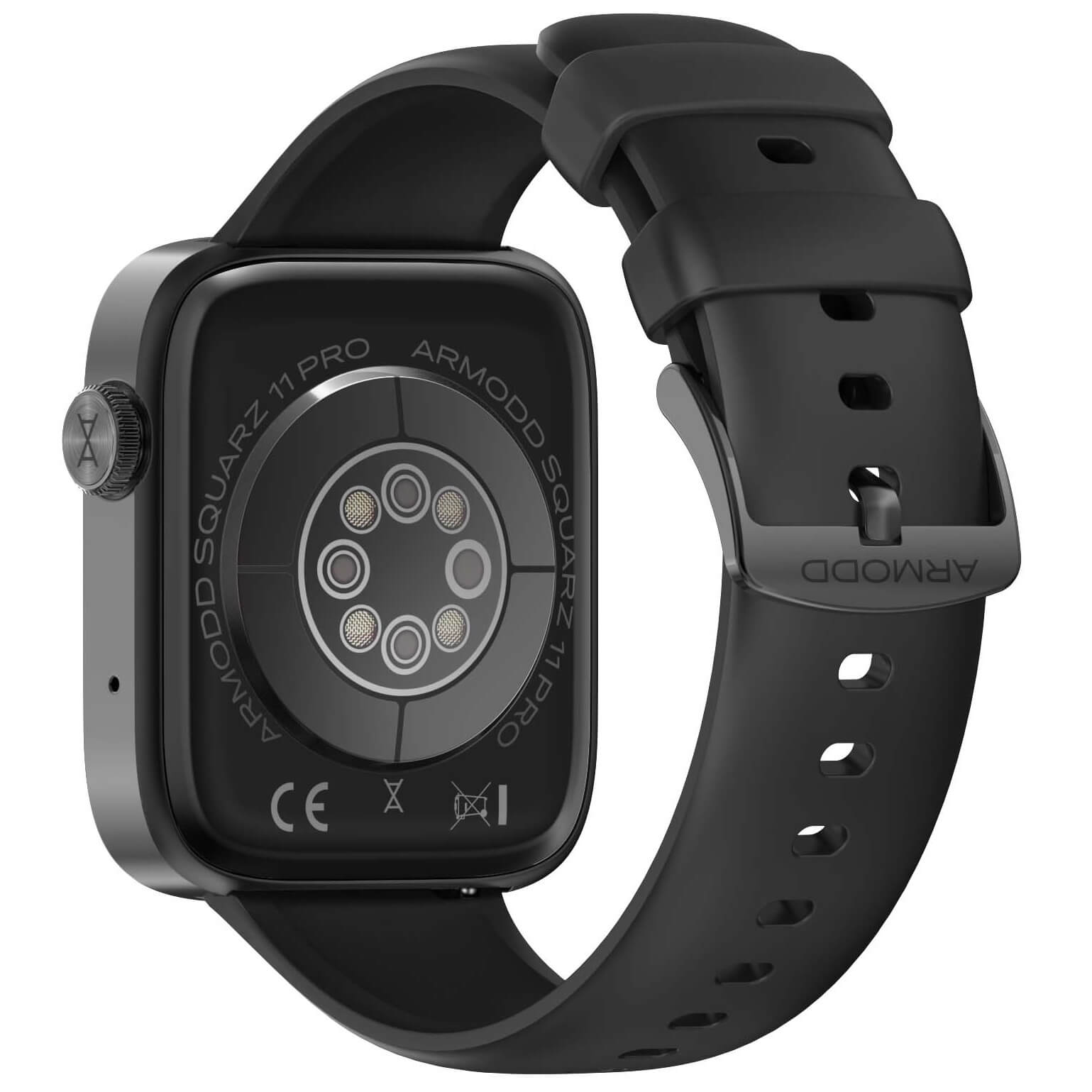 11 sports modes, your personal trainer on your wrist
Do you like sports? The smart watch can record walking, running, cycling, jump rope, badminton, basketball, football, treadmill, yoga, free motion/gym and elliptical trainer. The data is then simply saved in the application.
It takes time to become a winner, and no-one would do it just on their own. Now you'll be at least two for that along with the ARMODD Squarz 11 Pro smart watch.
Mobile application example
Intuitive controlling is a must. Everything works the way you want it to. For example, do you wish to receive only Instagram notifications and not Facebook ones? Or to set a pleasant wake-up using gentle vibrations? No problem.
In the app, you'll find all your recorded sports activities, statistics on steps walked, calories burnt and health data.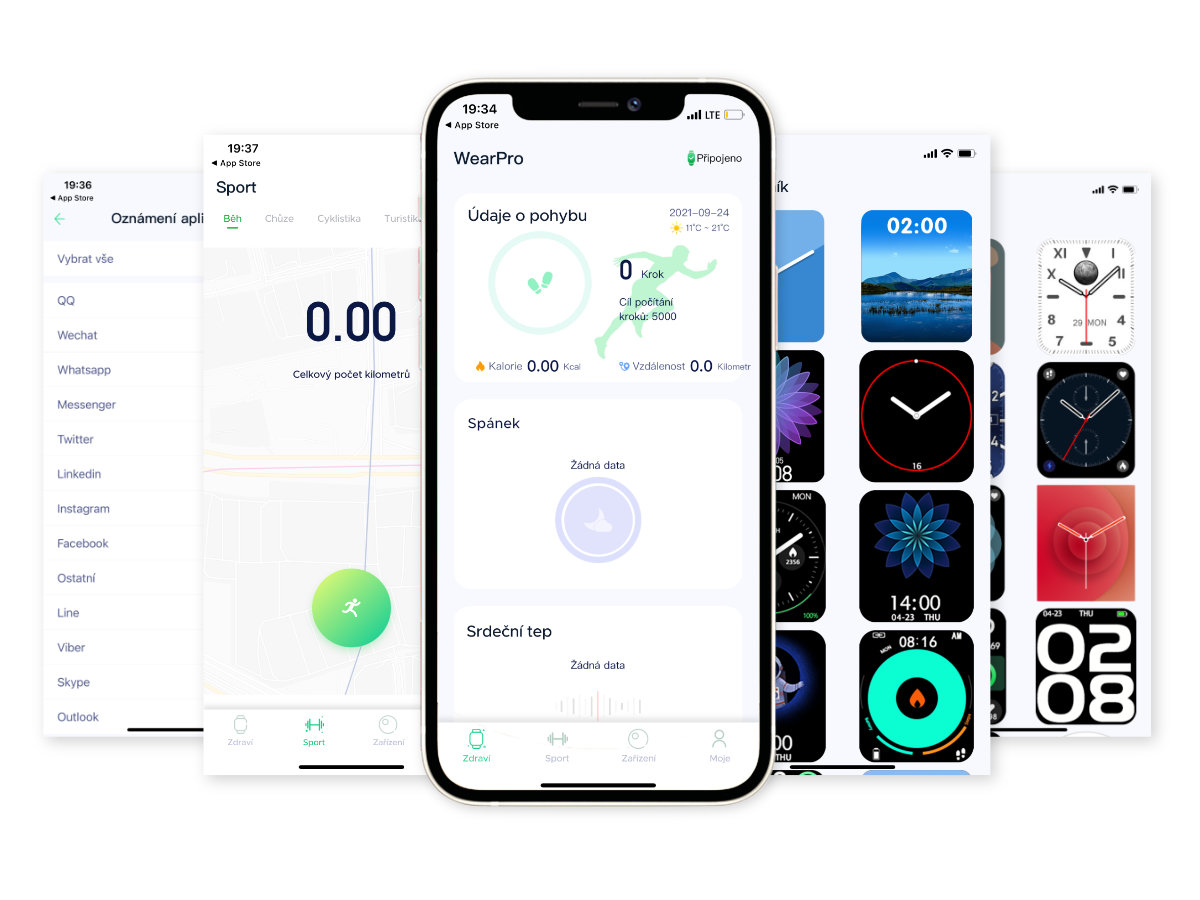 Parameters
Watch type
Designed for
Women, Men, Unisex
Hardware & software
Compatible with
Android 4.4 and higher, iOS 8.0 and higher
Connectivity
Bluetooth 5.2, USB
Functions
Notification
incoming calls, SMS, e-mails, apps (e.g. Facebook, Messenger...), medications, appointments
Sports functions
pedometer, distance, calories burnt, stopwatch
Sports modes
walking, running, cycling, jump rope, badminton, basketball, football, treadmill, yoga, free motion/gym, elliptical trainer
Health functions
heart rate, blood pressure, ECG, blood oxygen saturation, sleep, menstrual cycle monitoring
Other functions
Bluetooth calling, frequent contacts, voice assistant, remote phone camera shutter and music control, Find Phone function, alarm clock (vibrate), weather, calculator, breathing training, password protection, NFC (does not support payment), split display, flashlight, display brightness setting, different menu display styles
Display activation by wrist twisting
Yes
Lighting up the display by tapping the display
Yes
Time display even after the main watch face is turned off
Yes (up to 30 sec)
Watch Face & Display
Display
1.86" IPS touchscreen
Display resolution
420 x 485 px
Number of watch faces
13
+ own photo and more than 500 in the app incl. animated ones
Parameters
Battery life in normal use
up to 7 days
Standby mode
up to 20 days
Strap dimensions
Maximum wrist circumference
22 cm
Interchangeable straps
Yes
The packaging includes
ARMODD Squarz 11 Pro smart watch, magnetic USB charging cable, black gift box
Downloadable manual